Agowilt is a sudden sense of fear, or fear so great that it makes you feel physically ill. It's that panic that grips you after you arrive at your destination and are afraid that, in your haste, you neglected to pack something that is essential to the success of your trip..or after you realize that you printed out directions to the very large city you are visiting but not to your motel and must rely on a drunk, technologically inept relative if you are ever to escape your car. Well..there's still navigating public transport to look forward to!
I was surprised by how quick and simple this recipe turned out to be -- and how amazing! Forget buying a fancy coffee; why not make a fancy coffee bar for dessert?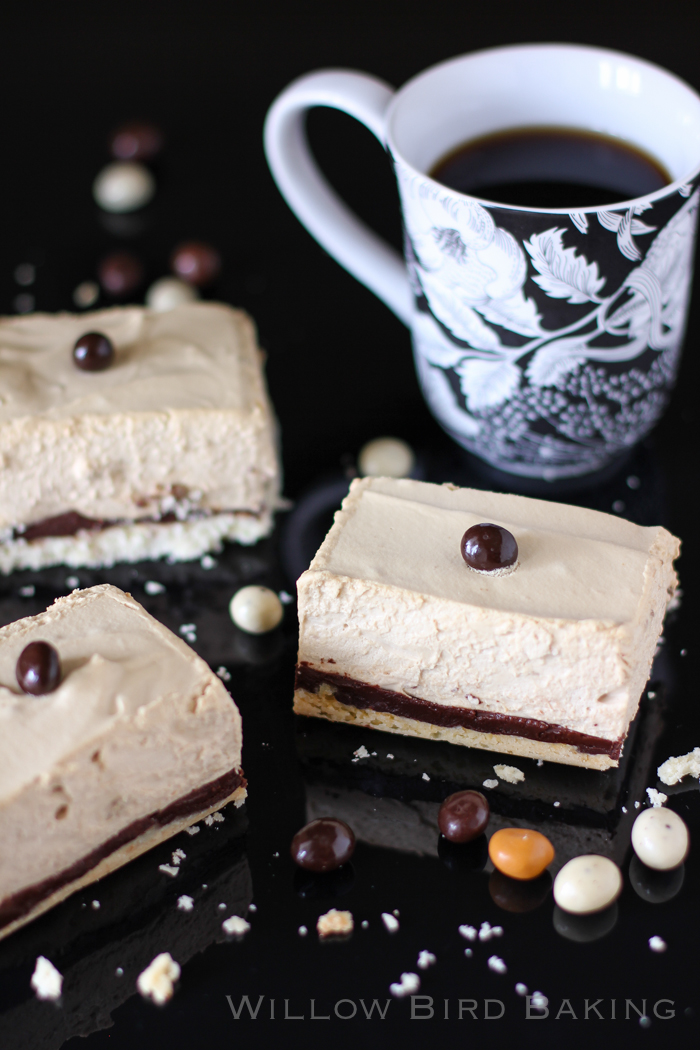 (
recipe + photo
Collapse
)
To read about radical acceptance, share your thoughts on dealing with suffering, and see more photos, please head over to
Willow Bird Baking
!
x-posted to food_porn, picturing_food, cooking, bakebakebake
These mocha mousse bars are so insanely good. They combine a buttery shortbread crust, fudgy bittersweet ganache, creamy coffee mousse with a splash of Bailey's Hazelnut Liqueur, and a dark chocolate covered espresso bean. If you love tiramisu or a good mocha, you'll love these bars.
Turkey panini, a photo by Coyoty on Flickr.
With garlic mayo, tomatoes, peppers, onions, and Swiss cheese. From the Corner Cafe at Tunxis Community College in Farmington, CT.
feeling...:

happy

hearing...:

Ras G - Find Ya Self (ANU Wrld) (Original Mix)
Blooming Earl Grey tea, a photo by Coyoty on Flickr.
feeling...:

happy
shunpike
(sh

n

p

k

) noun.
A side road used to avoid the tolls or traffic of a turnpike or highway.

Etymology: shun + turnpike. mid-1800s

"The Doctor overwhelms us with learning, universal and incomprehensible. Here is his map of the mental faculties, in which twenty-eight separate powers of mind are described in odd and even numbers.
"The arrows show the course of ideas through the mind. They begin with the motives in the region of the highest odd numbers in the south-west corner of the mind, marked A, and go perpendicularly northward, through Thirst and Hunger to Sensation, marked B; then turn to the right and go eastward, through Conception, to Attention, marked C, and then descend southward, through Perception, Memory, Understanding, Comparison, Combination, Reason, Invention, and Judgement; wheel to the left under Will, marked D, and pass through Conscience, and then to V, the unascertained centre of Sensation, Volition, and Will. This is the natural turnpike road for ideas when we are awake and sane. But here is an open shunpike, X, Y, Z, on which Ideas, when we are asleep or insane, start off and pass by Conscience, and so avoid paying toll to that inflexible gatekeeper."

- William H. Seward, in his defense of William Freeman, 1846.

(you can see the whole strange diagram in this book, on page 356,
and here is a little more about William Freeman)

Mini Dark Chocolate Cupcake Bites - These little gems are satisfyingly rich and full of dark chocolate flavor. The texture just melts in your mouth. I've topped these with candy canes for a festive touch for the holidays, but you don't have to, so these are great any time of year! Recipe and more at The Alchemist.
pro·noi·a
[prəˈnɔɪə]
:
origin
: (21st century) a neologism in psychology; (11th century) Greek
πρόνοια
= "care" or "forethought"
noun1.
A sneaking suspicion that the universe is conspiring to help you or others; antonym to
paranoia
.
2.
During the late Byzantine Empire, money set aside, under a state income, specifically to benefit individuals and institutions.
Blueberry French toast, a photo by Coyoty on Flickr.
At the Town Line Diner in Rocky Hill, CT.

Traditional French toast with blueberry compote, bacon, coffee, and syrup. There's also a chocolate shot glass someone gave me that I forgot to bring home. People shouldn't give me things in restaurants if they want me to keep them.
feeling...:

happy

hearing...:

Rush: Clockwork Angels Tour
Had a great time at Phil & Gina's talking to my future sisters in law and watching the guys play poker. Mike's been sick all week and I'm afraid he's given me a little of it. I've felt as if in a fog all day :( I can't wait to get into bed, but I'm afraid sleep may not come easily to me tonight. Alka Seltzer to the rescue!
do·ry·phore
[ˈdôriˌfôr]
:
origin
: (1950s) coined by Sir Harold Nicolson; French = literally "Colorado beetle", Greek
doruphoros
= spear carrier
noun
An individual delighting in pointing out someone else's minor mistakes; a pedantic and persistent critic.
((You may have bumped into one or two of these on Livejournal *ahem*))